Marketing
LOCAL BRAND - GLOBAL REACH:
The most important concept of real estate marketing is to ensure that your property gets in front of the right Buyer's and Agents. This can only be accomplished if you have expert knowledge of the property, the location, and of the Buyer's for that particular area or type of property.
Our marketing materials are of the highest quality, well designed, and easy to read. Our home marketing program will give you an exclusive and distinct marketing vehicle that has an unparalleled look and feel.
CUSTOMIZED BROCHURES:
We produce full colour multi page brochures that showcase your home with top quality photographs, floor plans and all other pertinent information. A high quality direct mail campaign may also be used with feature sheets and postcards.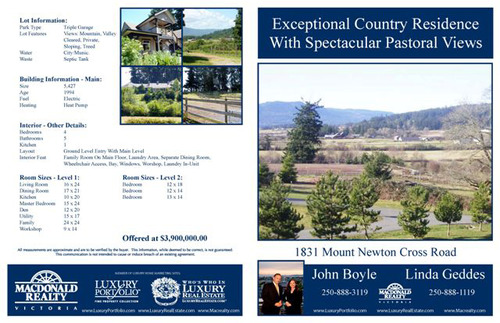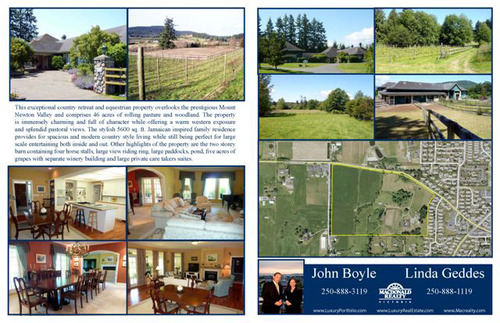 INTERNET MARKETING:
Our online luxury marketing program consists of 2 core components Luxury Portfolio and Macdonald Realty Luxury Properties.
Luxury Portfolio:
Exclusive to Macdonald Realty amongst a very select few real estate companies in Canada, Luxury Portfolio has more Luxury Home Listings than Christie's and Southeby's combined, with traffic from over 50 countries around the world. All listings placed on Luxury Portfolio also appear on the Wall Street Journal online.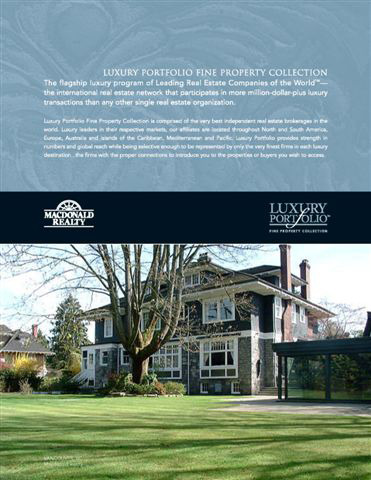 Macdonald Realty:
Macdonald Realty is the leading marketer of luxury properties in Western Canada. Macdonald Realty Luxury Properties is a cornerstone of the companies website and showcases it's luxury properties listed through out British Columbia.
B.C.'S Luxury Leaders:
Year after year, we lead the way in luxury sales in markets across British Columbia. In both 2016 and 2017 we were named one of the Top 3 International Luxury Brokerages by Luxury Portfolio International®, a global network of 200+ leading independent luxury affiliates in over 60 countries.
Macdonald Realty Luxury Statistics

2020 Leader in ultra-luxury sales in B.C. With 2 of the 4 most expensive condos sold and 3 of the 6 most expensive single family homes sold in 2020, more than any other single brokerage firm.
2019 Named one of the Top 3 for Luxury Portfolio's Spirit Award and nominated to the Million Dollar Club for global referral business.
2018 Over 150 sales of $3 million+, our top residential sale of the year $18 million.
2017 Named one of the Top 3 International Luxury Brokerages in Luxury Portfolio. Over 630 sales of $1 million+. Our top residential sale was $25.6 million.
2016 Over 300 sales of $3 million+, our top sale of the year was $27 million
2015 Over 150 sales of $3 million+, our top sale of the year was $22 million
2014 Over 70 sales of $3 million+, our top sale of the year was $17 million
2013 Over 750 sales over $1 million dollars
2012 Most expensive condo sale in British Columbia for $19 million dollars
Macdonald Realty is a member of Luxury Portfolio International®. This membership is recognition of our position as a leader in British Columbia's luxury real estate market. In 2015 a luxury home listed with Macdonald Realty in Squamish won Best International Home in the HGTV Ultimate House Hunt, an online contest which received nearly 900,000 votes and over 82 million page views. In both 2016 and 2017 Macdonald Realty was a top 3 nominee for the Luxury Portfolio International® award honouring the Top Luxury Brokerage.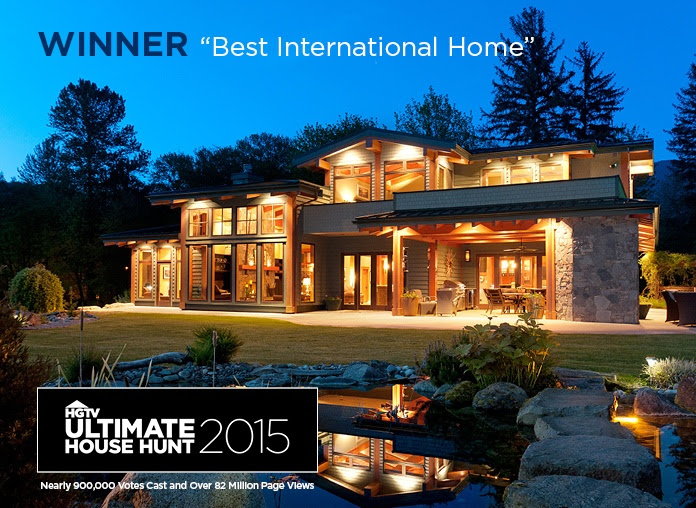 DIRECT EMAIL MARKETING:
A customized email colour brochure is created and sent throughout Macdonald Realty's roster of agents, to other appropriate agents, and to our extensive data base of clients, contacts and professional associates.
PRINT ADVERTISING:
Full colour weekly advertising takes place in the Vancouver Sun which reaches large audeances across British Columbia. Print Advertising also takes place in Victoria's high profile Homes & Land Magazine, Boulevard Magazine, Macdonald Realty's Luxury Homes Magazine, Luxury Portfolio International Magazine, plus several other publications best suited to target the right Buyer for each unique home and property.